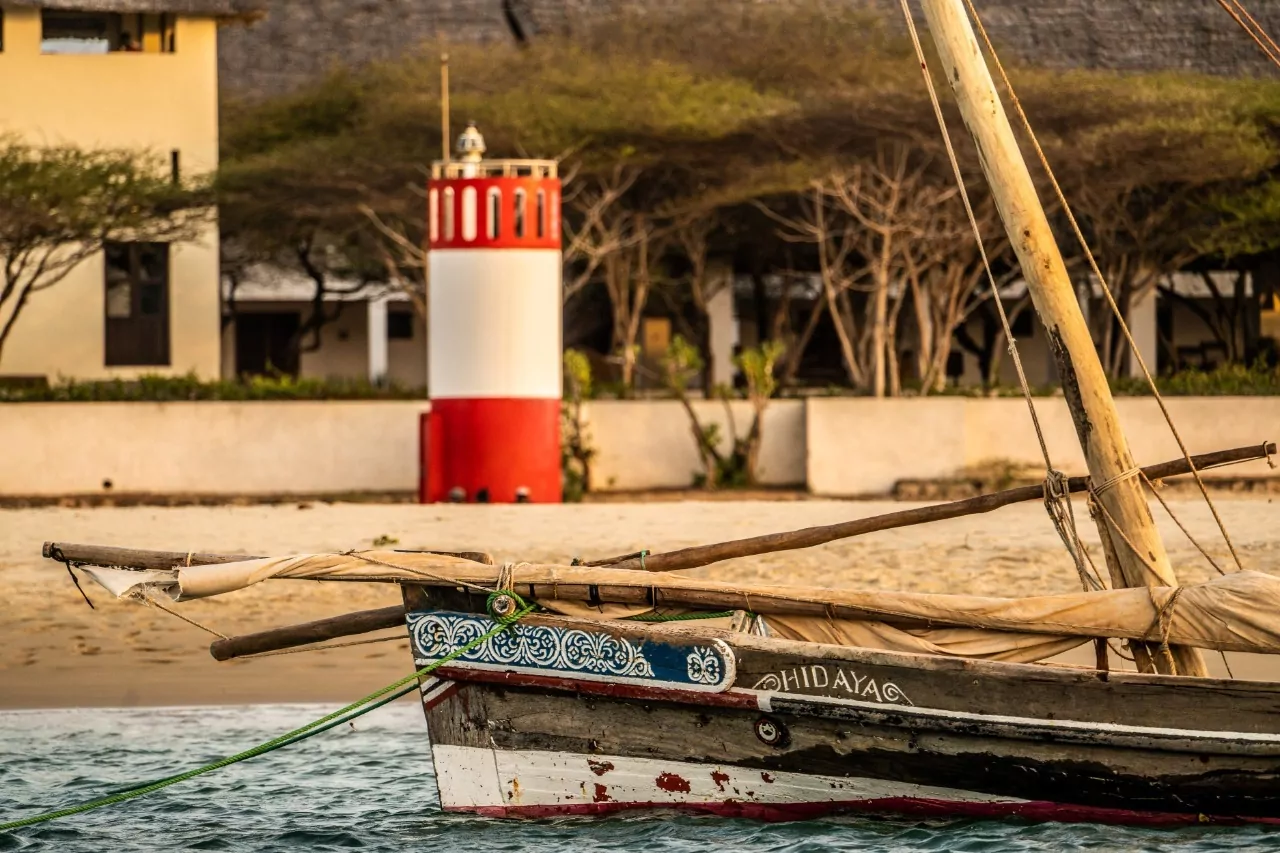 Origin
Here at Smokers Select, we believe in understanding origin when it pertains to matters of culture and we also believe in having an informed customer. That being said we are proud to say that Smokers Select Apparel is made in Kenya by Kenyans.
On this History page, we will endeavor to educate you on the Geography and History of the place and the people that create our designs
Hype Your Style!
SS [Smokers Select] was founded in 2013 in Atlanta, GA, and has since expanded to open operation in Nairobi, Kenya, and is now shipping internationally. SS's primary focus is to bridge the gap between US streetwear and African attire. We believe that exclusivity and luxury do not super-cede your need to express yourself and your culture, from the clothes you wear to the lifestyle you lead. You can live fully and express yourself freely, all while celebrating your afro-centric heritage.
Smokers Select clothing/merchandising brand focuses on American Style Urban Street Wear with a deliberate fusion of African Textiles and Style. Smokers Select reiterates a dedication to a sense of urban culture, lifestyle, and fashion with a slight touch of simplicity, creativity, and comfort; SS products play out across pop culture and are inspired by urban streetwear and modern African style, clearly referencing classic embroidery, and various accessories, crafted 100% currently in East Arica.
"Just as all matter is made of different elements, style combines different elements of building blocks. Artists combine line, shape, form, space, texture, value, divine law, and color to produce their work. These elements also help us appreciate, understand, and analyze ourselves." Using these elements, I worked to create a style that not only inspires others but promotes unity between all people of African descent.
So, come along. Select your style of self-expression with Smokers Select.
The "MAA" tribe
Who are the "Maa"
The Maasai (/ˈmɑːsaɪ, mɑːˈsaɪ/) (Swahili: Wamasai) are a Nilotic ethnic group
inhabiting northern, central and southern Kenya and northern Tanzania. They are among the best known local populations internationally due to
their residence near the many game parks of the African Great Lakes, and their distinctive customs and dress.
01
Orgin
Many ethnic groups that had already formed settlements in the region were forcibly displaced by the incoming Maasai, while other, mainly Southern Cushitic groups, were assimilated into Maasai society. The Nilotic ancestors of the Kalenjin likewise absorbed some early Cushitic populations
02
Regalia
Clothing changes by age and location. Young men, for instance, wear black for several months following their circumcision. However, red is a favored colour. Blue, black, striped, and checkered cloth are also worn, as are multicolored African designs. The Maasai began to replace animal skin, calf hides and sheep skin with commercial cotton cloth in the 1960s. Shúkà is the Maa word for sheets traditionally worn wrapped around the body.
These are typically red, though with some other colors (e.g. blue) and patterns (e.g. plaid). Pink, even with flowers, is not shunned by warriors. One piece garments known as kanga, a Swahili term, are common. Maasai near the coast may wear kikoi, a type of sarong that comes in many different colors and textiles. However, the preferred style is stripes.
03
The Get Down
Maasai music traditionally consists of rhythms provided by a chorus of vocalists singing harmonies while a song leader, or olaranyani, sings the melody. Unlike most other African tribes, Maasai widely use drone polyphony.[75] Women chant lullabies, humming songs, and songs praising their sons. Nambas, the call-and-response pattern, repetition of nonsensical phrases, monophonic melodies, repeated phrases following each verse being sung on a descending scale, and singers responding to their own verses are characteristic of singing by females.
When many Maasai women gather together, they sing and dance among themselves. Eunoto, the coming of age ceremony of the warrior, can involve ten or more days of singing, dancing and ritual. The warriors of the Il-Oodokilani perform a kind of march-past as well as the adumu, or aigus, sometimes referred as "the jumping dance" by non-Maasai. (Both adumu and aigus are Maa verbs meaning "to jump" with adumu meaning "To jump up and down in a dance.
History of Nairobi
The Traditional Tribe of Nairobi, Kenya's Capital City. Here is a little of the City:
Pre 1809 Maasai phrase 'Enkare Nyrobi', which translates to "cool water". The Maasai (/ ˈ m ɑː sa ɪ , m ɑːˈ sa ɪ / ) (Swahili: Wamasai) are a Nilotic ethnic group inhabiting northern, central and southern Kenya and northern Tanzania.
The area Nairobi currently occupies was essentially uninhabited swamp until a supply depot of the Uganda Railway was built by the British in 1899 linking Mombasa to Uganda
The city was first incorporated in 1900 as the Township of Nairobi. The regulations governing it were published on the 16th April, 1900 under the powers vested in Sir Arthur Hardinge, H M Commissioner at Zanzibar by Article 45 of the East Africa Order-in-Council.
The Nairobi Club was formed in January in 1901 and a racecourse came up at about the same time. There was only one school at the time but the Roman Catholics were busy with the construction of a church and a school beside the railway line. In December of 1901 the committee was given the rights to make new by-laws "for the preservation of the public health and good order within the township" and prescribing penalties for breach of their observance.
By 1903 the use of the railway as a medium of exporting produce as well as importing equipment had become noticeable, and there was some talk of finding permanent markets in South Africa. Nairobi was growing at a fast pace and new people arrived with every ship that docked at Mombasa
In 1905, Nairobi replaced Mombasa as capital of the British protectorate, and the city grew around administration and tourism, initially in the form of big game hunting. As the British occupiers started to explore the region, they started using Nairobi as their first port of call.
In 1919, the Nairobi Township community formally became the Nairobi Municipal Council. Its boundary was extended to include surrounding part-urban settlements.
In July 1920 it was proposed that a more distinctive title be adopted for the chief of the municipality of Nairobi the capital of the protectorate. The title Mayor was suggested.
It was not until 1923 that the title of Mayor of Nairobi was officially applied.
In the early years the growth of the Town had been controlled only by economic forces with no coordination of development. In an attempt to order the situation, a Town Planning Consultant was appointed in 1926. Jacaranda Jim Jameson from Kimberly also submitted his town planning report in 1926; he had a great quickness for planting Jacaranda trees for the beautification of the town
The boundary was again extended in 1927 to cover 30 square miles.
The development of Local Government in the Town was determined by racial considerations. Thus membership in the Town Council was dominated by Europeans, followed by Asians. It was not until July 1946, that the first African Councilors, Muchohi Gikonyo and Khamisi took their seats. It was as the Mayor remarked an historic occasion in East African Local Government.
In April of the same year, the Council's attention had been directed to the fact that in 1950 Local government in Nairobi would be fifty years old. The council gave some thought to the form that suitable celebrations might take and it was suggested by Alderman Vasey that the town should seek the status of a City.
After independence the City of Nairobi elected its first indigenous Mayor in 1964
The first female Mayor of Nairobi in 1975.
In 1984 the Nairobi City Council was dissolved to pave way for the Nairobi City Commission which governed the city
In 1992 when the Nairobi City Council was reconstituted and the first multi-party Mayor elected.
With the promulgation of the constitution of Kenya 2010, Nairobi elected the first Governor under this constitution.
After the elections of 2013, Nairobi City Council became Nairobi City County.
Nairobi City County elected its first Governor in March 2013.
Culture Selects
Calabash is the term used for artefacts made from the hard shell of a fruit in the gourd family "Lagenaria siceraria." Once the calabash is dried and hollowed out it can be used for serving or storing food. It can also be used as an inkpot, cosmetic container and by market women as a money box. Aside from the use as containers, calabashes are frequently adapted as musical instruments such as the flute, violin, harp, xylophone and the rattle (which is made with seeds inside or with cowries/beads on the outside).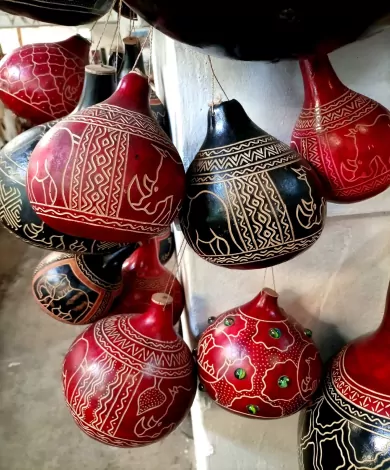 A kiondo is a handwoven handbag made from sisal with leather trimmings. It is indigenous to the Taita, Kikuyu and Kamba tribes of Kenya. These Kenyan weavers begin by stripping the Sisal plant's outer layers, leaving the plant still able to grow. The weaver uses threads from the pale colored layers, that have dried out for a day, to make a bag. A design pattern is finalized. The weaver then boils the threads to be used with water and dye sets the bag's colors. Now the weaving begins.
Two single threads are twined to form one strong thread. Many such threads are
woven. It is from these threads that a sisal bag is made. It takes between two and three weeks to complete a bag. Most weavers have to look after their households; therefore, weaving is done whenever they have the time. Sometimes small beads and shells are woven into the kiondoo.Kiondoos are exported to western countries where they have been and continue to be quite popular.The Swahili word for a kiondoo is 'chondo,' plural 'vyondo'.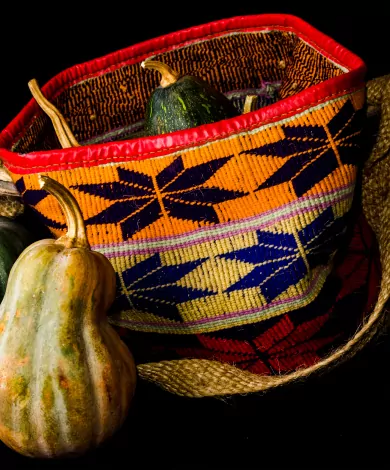 Fly Whisk
Power/Influence
Two fly whisk made of cow tail which is put on a wooden handle while the skin is still wet then dries firmly. It is made by men and used by old men of kiama almost as a symbol of status. Fly Whisk are also used by men of all ages during whilst dancing nguru, mutunguci and kibata dances. Fly-whisks appear frequently in the traditional regales of monarchs and nobility in many parts of the African continent.
Fly whisks, called "ìrùkẹ̀rẹ̀" in Yoruba, were used by Yoruba monarchs and chiefs as a symbol of power and respect. This use has sometimes carried on into modern contexts: Kenyan leader Jomo Kenyatta carried a fly-whisk, a mark of authority in Maasai society,[as did Malawian leader Hastings Banda, while South African jazz musician Jabu
Khanyile also used a Maasai fly-whisk as a trademark when on stage.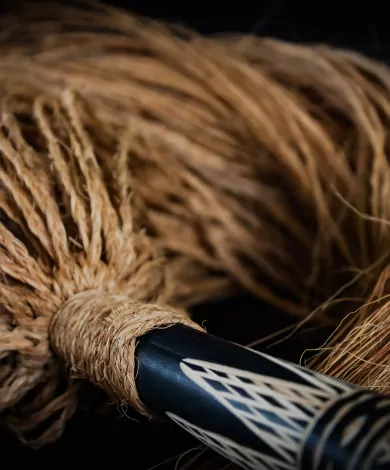 Maasai Shield (Elongo)
Protection
The 'Elongo': The Power of the Maasai Shield
The Maasai were known for their bravery and being superior warriors. Maasai shields, the 'elongo', represent one of the many genres of African artifacts with both utilitarian craft and fine art characteristics. This shield holds many stories, including that of one of Kenya's most courageous
communities.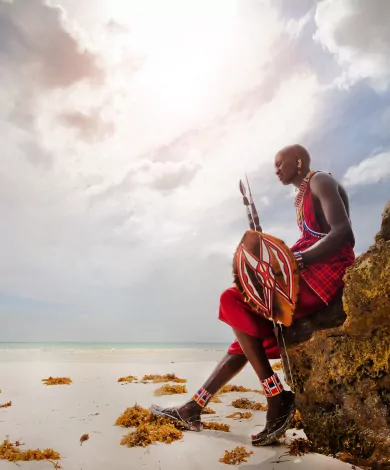 The Mugumo (Ficus natalensis/Ficus thonningii) is a rare sacred tree among the Kikuyu. Mugumo is an evergreen type of fig whose wood is unsuitable for lumber or firewood. The tree can grow as tall as 90 metres (295 ft) in forest or savannah and is invaluable in conserving soil moisture and fertility. Traditionally, the Kikuyu have used the tree for medicine, fruit, rain catchment, boundary markers, sanctuaries, fodder for cattle, and to hang beehives. In the past people would build rafts high in the branches as places of refuge from invading tribes, in particular, the marauding Maasai (Matthew Karangi Revisiting the Roots of Gikuyu Culture Through the Sacred Mugumo Tree.The Mugumo trees are known for their size, strength, and power.
They are also trees of Ngai, the Kikuyu God, who chose Mugumo trees as places to inhabit when descending from heaven to commune with the Kikuyu people. The sacred tree and the rituals associated with it validated the Kikuyu peoples claim to land, political power, religious hegemony, and identity to make concrete and material the abstract notion of life. A close study of the scared Mugumo tree reveals that taking care of the tree is tantamount to taking care of the environment and that when the habitat is destroyed, plundered, or mismanaged, the quality of life is undermined. It is also a symbol of fertility and succession, "ituika", the passage of one ruling generation to another.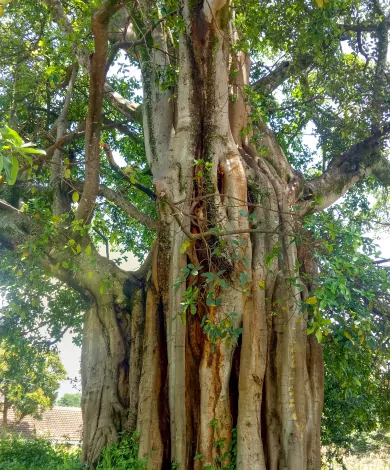 View more
What People Think About Us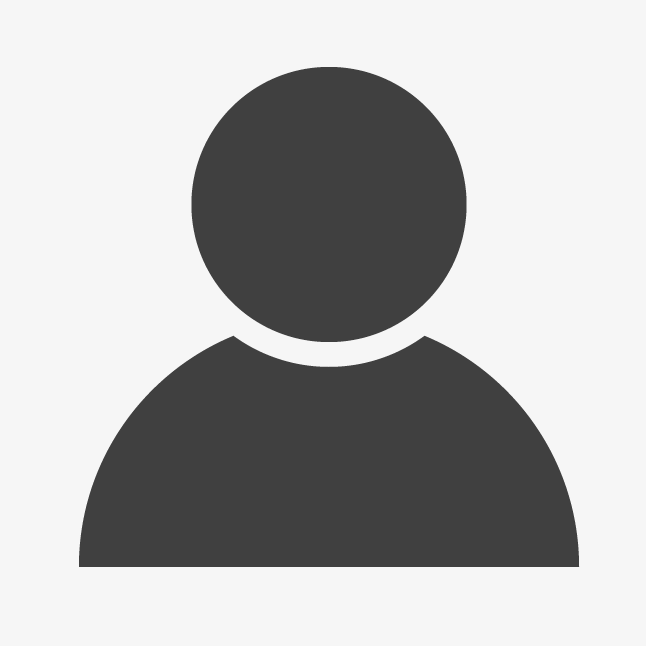 Melinda B
Montgomery, Al
Very Unique Products
The products offered on this website are very unique. I Love my outfit!! The
stitching is so perfect and worth the price. Perfect place to purchase Ethnic clothes.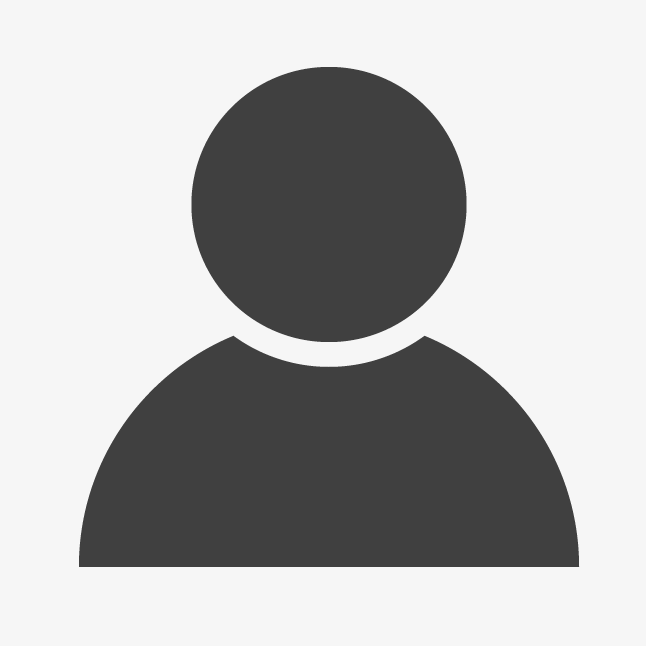 Elizabeth M
Nairobi Kenya
Awesome Site!!
It's been months since I came across @smokersselect on their website and one
thing they are worth everything to me and having gone through their website it's
been easier and simple and what I loved more about it is that.
1. There is good intervention on their website and on their social media accounts.
2. It's much easier to navigate through their site and see what you love.
3. It's easier to you use their site on the PC, laptop and also on one's mobile phones.
4. It's easy to buy, add to cart and on the methods of payment it's easy and
smooth.
I would highly recommend them ❤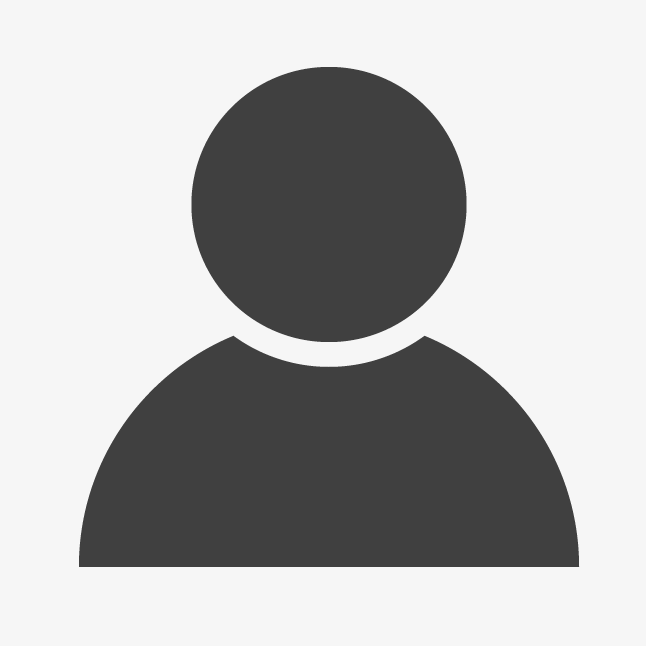 Naomi B
Seattle, WA
Love your Clothes!!
I love the clothes from this website!! I am so glad I found them.....everything has
been spot on, fits wonderfully, styles are trendy and lots to choose from!! Thanks
for being here for us!!!
Terms and Definitions
Swahili, also known by its native name Kiswahili, is the native language of the Swahili people, who are found primarily in Tanzania, Kenya, and Mozambique (along the East African coast and adjacent litoral islands). It is a Bantu language, though Swahili has borrowed several words from foreign languages, particularly Arabic, but also words from Portuguese, English, and German. Around forty percent of Swahili, vocabulary consists of Arabic loanwords, including the name of the language ( �� ِسَ وَ اح sawāḥilī, a plural adjectival form of an Arabic word meaning 'of the coast'). The loanwords date from the era of contact between Arab slave traders and the Bantu inhabitants of the east coast of Africa. Swahili emerged as a lingua franca in the region. The number of Swahili speakers, native or second-language speakers, is estimated to be approximately 200 million
DEFINITIONS OF SWAHILI WORDS
| Name | Item | Color | Definitions Of Swahili Words |
| --- | --- | --- | --- |
| "KIJANI" | HOODIE | GREEN | LEAF |
| "FUMO" | LONG COAT | MULTI-COLORED | FROM THE WORD MFUMO OR "WAY" |
| "MAWINGU" | HOODIE | PALE BLUE | CLOUDS |
| "MORAN" | DRES'S HOODIE | RED | YOUNG WARRIOR FROM THE MASAI TRIBE |
| "SHUKA VAZI" | LONG ROBE | RED AND BLACK | TRIBAL MASAI CLOTH TO WEAR |
| "SHUKA WATU" | DRES'S HOODIE | BLACK AND RED | TRIBAL MASAI CLOTH FOR THE PEOPLE |
| "TURUNGI" | CLASSIC HOODIE | BLACK WITH ACCENTS | BLACK TEA |
| "VAZI FALME" | ROYAL ROBE | GRAPHIC ROBE | MAJESTIC ROBE |
| "VAZI MAWINGU" | ACCENT ROBE | PALE GREY | ROBE ON A CLOUD |
| "WATU PANCHO" | ACCENT PANCHO | BLACK WITH ACCENTS | THE PEOPLES PANCHO |
| "WATU VAZI" | DRES'S ROBE | ALL BLACK | PEOPLES CLOTHES |
| "FUMO SKAFU" | HEADSCARF | MULTI-COLORED | FROM THE WORD MFUMO OR "WAY" SCARF |
| "FUMO" | WIDE LEG TROUSERS | MULTI-COLORED | FROM THE WORD MFUMO OR "WAY" |